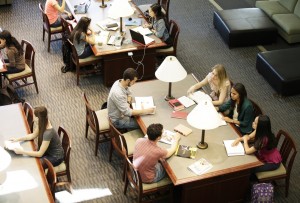 United States Immigration law places responsibility upon the individual student to know and follow all relevant immigration regulations. CGE Advisors are here to make sure you avoid as many common problems as possible. Before taking any action in terms of employment or adjusting your course load below full time make an appointment to speak with an advisor. Failure to comply with these regulations may have severe consequences for your ability to study, seek employment, or remain in the United States. Note: specific regulation information related to F-1, J-1 students, and J-1 scholars can be found in other sections of this website.
Passport
Your passport must be valid at least six months into the future. You should contact the closest Embassy or Consulate to renew your passport while in the U.S. Report a lost or stolen passport to the police, as well as your home country government. Some countries require a police report before issuing a new passport.  www.state.gov/s/cpr/rls/fco
Visa 
U.S. consular officials place the visa in your passport indicating your eligibility to enter or re-enter the U.S. It does not determine your length of stay in the U.S. If your visa expires while you are in the U.S., it is not necessary to renew it as long as you remain in the country. You will need to renew your visa if you leave the country and want to re-enter after your visa is expired. A visa can only be secured at a U.S. Embassy or Consulate overseas.
---
I-94 Admission Record
Customs and Border Patrol officer will stamp a student's passport (usually above the visa page) and write "F-1 D/S" or "J-1 D/S."  D/S stands for "duration of status."  Except for brief visits (30 days or less) to Canada, Mexico and some Caribbean islands, a new admission number will be issued each time you enter the U.S.  It is best to check your I-94 information each time you return to the U.S. to make sure that the CBP Officer did not make a mistake at the border. It is easier to correct these mistakes within 30 days of entry, but it can take some time for the online system to update. We recommend accessing the record approximately two weeks after you enter or return in F-1 status.
Students may need to provide their admission number or travel history to various offices and agencies of the state and federal government. In order to access your I-94 admission number, please go to this Customs and Border Patrol website. You will need to click "get I-94" or "view travel history" depending on what is being asked of you to provide.
Arlotto Family Center for Global Engagement is required by the Department of Homeland Security (DHS) to keep a copy of all documents in your student file.