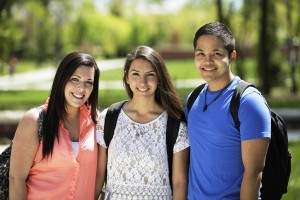 Congratulations!  You have accepted our offer of admission to TCNJ and we are looking forward to working with you as you pursue your academic goals in the USA.  Now you need to review the rules on entering the USA and prepare your visa application. Click the arrows below to see more information about each step in the process: requesting your DS-2019 or I-20 form, paying the SEVIS fee, preparing the visa application, and completing the consular interview. 
All international students must obtain a visa at a U.S. consulate or embassy outside the United States to study at a U.S. institution. Degree-seeking and study abroad students will apply for an F-1 non-immigrant student visa, while exchange students will apply for a J-1 exchange visitor visa.  International students should apply for the visa in their country of citizenship or permanent residence.  Student applications at alternate locations may take more time and be reviewed more critically. If applying from a third country is your only option, you will need to be prepared to explain to the consular officer why you are unable to return home.
Requesting your DS-2019 or I-20 Form
DS-2019 Form (Exchange J-1 students)
Detailed instructions on the application process can be found in our Apply Tab-Exchange Students page.
Complete the online J-1 student application (sent to the e-mail provided by your nominating institution).
Submit your current passport that is valid for at least six months after your exchange program will end.
Submit financial documentation in the amount of $9500 per semester of study.
Your DS-2019, admission letter, and further instructions will be sent to the address provided in your online application.
I-20 (Degree Seeking F-1 students, Study Abroad Students)
Detailed instructions on the process can be found in our Apply Tab for Undergraduate Students, Graduate Students, or Study Abroad Students.
Complete the F-1 student application supplement: I20Guide19-20 or I20Guide19-20Grad
Submit your current passport that is valid for at least six months after the start of your program.
Submit financial documentation for one year of study as outlined in the I-20 guide.
Your I-20 and further instructions will be sent to the address provided.
To receive the I-20 you have two options:
Airmail free of charge (which may take anywhere from two to four weeks), or
To receive your I-20 via email
Pay SEVIS Fee
Fill out form i-901 and pay the fee. You will need your I-20 or DS-2019 with you to complete this process. If you get stuck on any of the pages you can review SEVP's tutorial. To pay the fee visit: https://fmjfee.com/
Follow the prompts to complete all necessary information, including filling in your SEVIS ID Number and our School Code/Program Number. Pay the fee following the directions given (credit/debit card is usually the easiest)
Print the receipt with the confirmation number. You will need to bring this paper to the consulate to receive your visa and Customs and Border Patrol may request it upon arrival to U.S. Port of Entry.
Prepare the Visa Application and complete in person consular interview
Visa procedures may differ from one consulate or embassy to another. Before applying, check with the office where you plan to apply to determine exactly what additional supporting documentation is required. The U.S. Department of State maintains an authoritative website on the visa application process that should be studied carefully. The information below provides a brief summary.
Overview of Requirements for Visa Application
Complete visa application form and pay visa fees.
Receipt for payment of the I-901 SEVIS fee
Your passport must be valid for at least six months after your proposed date of entry into the U.S. for F-1 students or six months after the end of your program for J-1 students.
Two  2″ x 2″ photographs.
Form I-20 (for F-1 applicants) or DS-2019 (for J-1 applicants)
A copy of the students offer of admission to TCNJ.
Financial evidence detailing source and amount of funding. Consular and immigration officers exercise considerable discretion in determining whether financial support exists and is sufficient. Examples of financial documentation: Graduate Assistant offer letters, bank statements, letters from governmental sponsor, letters of support from family members.
Academic transcripts, confirmation of enrollment, and proof of English language proficiency may also be requested.
Evidence of continuing ties to your home country (i.e. family, career, or property).  A student visa is in a "non-immigrant" category, and it is important to show that you have on-going connections to your home country.  Your visa will be denied unless you are able to convince the consular officer that you will return home after the completion of your studies and your practical training. Unfortunately, there is no single explanation, document, or letter than can guarantee visa issuance.
Related Links
Denials:
If students are denied the visa, they should ask the visa officer the reason for their denial and then e-mail liberona@tcnj.edu. Due to the amount of discretion given to Consular Officers, they are never wrong to issue a "denial." However, students may bring new documents with them to a second interview to try to overcome the reason for denial. The most common reason for denial is unable to prove non-immigrant intent. Do you have family in the U.S.? What can you show the consular officer to prove that you will return to your home country upon completion of your studies?