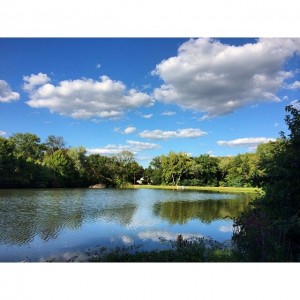 The Arlotto Family Center for Global Engagement is here to help you get from your home country to our campus in Ewing, New Jersey.  We know this may be the first time you have left your home country or planned such a long journey, so you may have some questions that we can help answer. Please take a look at the links on this website, think about what you might need in your room in the student residence, and explore different travel options from your home city to Newark, New Jersey – New Jersey's international gateway.  We are here to answer any questions you may have at iss@tcnj.edu.
If you would like to book round-trip airline tickets, please look at the Academic Calendar to see when the semester ends. 
Ship Bedding, Towels, and Supplies Prior to Arrival to Green Hall 107!
All rooms and apartments are furnished. However, they do NOT have sheets, duvets, pillows, towels, soap, and other accessories.  We encourage you to order your Twin XL bedding through an online retailer (Amazon).  Once you order your supplies from your preferred retailer, please email liberona@tcnj.edu so that we can keep an eye out for your items. Our TCNJ Bookstore can offer immediate access to many of the things to make a dorm room comfortable, but we will also be taking you to larger "Big Box" Stores (Wal Mart, Target, Wegmans) during orientation for additional supplies at a lower cost.
Minimum What to order/bring: Twin XL size fitted sheet, Twin XL flat sheet, pillow, standard pillowcase, towel, and a weeks worth of  hygiene products
A. Family Center for Global Engagement
Your name
The College of New Jersey
2000 Pennington Road
Green Hall 107
Ewing, NJ 08628 
Flying to the United States
There are several international gateways in the New York City and Philadelphia metropolitan areas, including Newark Liberty International Airport (EWR) in Newark, New Jersey.
The College of New Jersey will not allow students into their residence halls any earlier then the arrival date.
Arriving at Newark Liberty International Airport, NJ (HIGHLY RECOMMENDED)
The A. Family Center for Global Engagement STRONGLY RECOMMENDS that students use Newark Liberty International Airport (EWR).
This airport may be listed by your airline as "New York/Newark," but you will be landing in Newark, New Jersey.
The least expensive way to travel to Mercer County is by NJ Transit train on the Northeast Corridor line to Trenton Transit Center.  During the day, trains run at least twice an hour and cost approximately $20.00.  If you choose this option, you will follow signs to the AirTrain station in your terminal, travel to the NJ Transit station (the last stop, after "P4," sometimes referenced as the "RailLink").  Purchase a ticket at one of the orange machines with a credit card and proceed to Track #5 for your train to Trenton.
As long as you arrive on the arrival day during the designated arrival times A. Family Center for Global Engagement will arrange to pick you up in Newark or Trenton to take you to campus.  Please share your travel plans with the CGE by filling out our TCNJ Arrival Request Form.
Arriving at Philadelphia International Airport, PA (RECOMMENDED-But no campus provided pick up service)
The Philadelphia International Airport (PHL) in Philadelphia, Pennsylvania is an international airport within an hour of The College of New Jersey. However, unlike Newark Liberty International Airport, there is no shuttle service from the Philadelphia International Airport to New Jersey. Taxis and rental cars are expensive. The train is the only available public transportation. It takes two different trains to get to the Trenton Transit Center or West Trenton.
If you are arriving at Philadelphia International Airport, you will need to take a SEPTA train from the Philadelphia International Airport and transfer to the Trenton Line or West Trenton Line at 30th St. station in Philadelphia.
The second train will end at the Trenton Transit Center or West Trenton. From the airport to Trenton, the train will take approximately two hours and should cost around $15.00.
Please fill out the TCNJ Arrival Request Form to arrange for pickup from Trenton Transit Center.
Arriving at LaGuardia or JFK Airports, New York City (NOT recommended)
LaGuardia and JFK airports are very far away and not recommended. Transportation to TCNJ will take longer, is expensive, and requires 2-4 transfers between subways, trains and buses. CGE staff will not be available to arrange pick ups from this location. JFK particularly seems very attractive: flights are cheaper and it's only a short 2 hour drive, right? WRONG! Due to the high amount of traffic to travel between JFK and TCNJ what seems like it should be 2 hour journey can take over 4 hours. In addition, taxi drivers will ask you to pay bridge tolls that can amount to over $40 in addition to the taxi fare. You are encouraged to fly into Newark Liberty International Airport (EWR).
Early Arrivals:
Students arriving before the official arrival date will need to make accommodations outside of TCNJ's campus. Housing cannot allow anyone into their rooms until the official arrival date.
For students arriving with a few weeks to travel we recommend looking for a hotel/Air BnB/hostel in Philadelphia (Center City, Old City, and Fairmount are closest neighborhoods to major attractions) or New York City (Manhattan is closest to major attractions).
For those looking for 1-2 nights to relax in a hotel, we recommend staying at the SpringHill Suites location in Ewing about 3 miles from campus (amenities include: breakfast buffet, fitness center, pool, and wifi). The hotel staff have limited shuttles to take you to nearby shopping areas, restaurants, and the campus, but it is located in an office park location with not much to walk to. Uber/Lyft rides to the same areas will cost about $10 one way.
Entering the United States-Rules and Regulations
Please read these rules to ensure an uneventful entry and stay in the United States:
Students may not enter the US more than 30 days prior to the start date listed on their I-20 or DS-2019 Form.
Students should enter the United States for full-time study in either the F-1 or J-1 visa categories, not a B-2 tourist visa. You should not enter the US on a B-2 tourist visa, as it is likely that you will have to leave the US shortly after your arrival to obtain a J-1 or F-1 visa and return. Students who are accidentally listed as B-2 most often arrive through Canada. If you are traveling from Canada make sure of two things: tell a Customs and Border Patrol Officer you are an international student and confirm the stamp they put in your passport says J-1 or F-1.
At the port of entry in the US, a Customs and Boarder Patrol officer (CBP) will examine your I-20 or DS-2019, passport, entry visa, and I-901. They will stamp your passport. Please keep these important immigration documents in a secure place. In addition, you may go through a biometric screening where they will take your picture and require you to supply your fingerprints.
Students must attend the school whose I-20 or DS-2019 form was used to enter the US. For students entering the US for the first time this should also be the school that is listed on your visa.

If you enter the US on a Form I-20 issued by another college, but then attend TCNJ, you will need to go through a transfer process before you can begin classes.
 International Student Orientation
The International Student Orientation provides important information regarding your stay as a student, campus resources, and services in the community.  Attendance at the orientation is mandatory for all international students, including students transferring from other U.S. schools. The orientation will provide valuable information that will ease your transition to campus and help ensure your success.
J-1 and F-1 visa regulations
Learn how to use various computer systems
Buy your textbooks
Housing Rules and Regulations
Shopping for needed/forgotten items
Student Health and Wellness
Immunizations
Campus Tour
Using public transportation
Meet TCNJ students, staff, and faculty to answer all your questions!