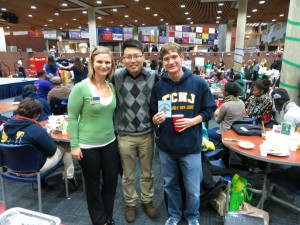 Kudos to the residents of the TCNJ International House – "I-House" for receiving this year's Student Leadership Award in Excellence in Collaborative Programming for Trip Around the World, that took place in November, 2013.  A collaboration between the Center for Global Engagement and Residential Education and Housing, I-House brings domestic and international students together to share different cultures, hone valuable communication and leadership skills, and enjoy opportunities to have a global experience without leaving the TCNJ campus in Ewing.   Both Desiree Shrode (CGE) and Curtis Chan (Res Ed/Housing) cite the student
leadership of Community Advisor Matthew Knoth as a key element to the success of
this year's community, which presented "A Trip Around the World" as part of
TCNJ's celebration of International Education Week in November and a number of
culture nights throughout the year.  Congratuations!